Year-Long Ruby Crate (Spring 2023 Start)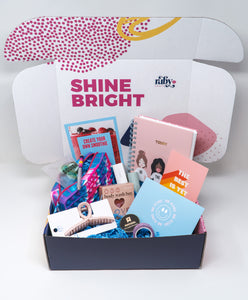 Emily's Year -Long Birthday Gift
I bought this crate as a birthday gift for my granddaughter. She was so excited when she received the first box. She loved everything in it !! It made her feel so grown up. Thank you so much for the care and attention you put into picking the items that go into each crate. And I love when someone else thinks of different gift ideas.
2 yr member
Will keep ordering these for my daughter! She started getting them when she was 10 and I'll continue gifting them to her. I love that there is a box for younger kids and one for teens❤️
Wow!
The girls loved all the items. It was perfect for their ages
A great gift
I bought this gift for my 10 yr old granddaughter and watched while she opened the gift box.
Her eyes lit up and as she pulled out the hat and bag her smile got bigger and bigger.
She hugged the box and smiled with excitement as she thanked me and said oh Nana I love it. ❤️
Perfect Christmas Gift
We purchased a year subscription for my daughter as her Christmas gift. She absolutely loved the contents. They were all unique items and great quality. I appreciated that it arrived all wrapped and ready to be put under the tree. Sammy can't wait for the next delivery. Bonus: I also plan on using some of the items:) 5 stars for Ruby Crate!