Grad Ruby Crate - Limited Edition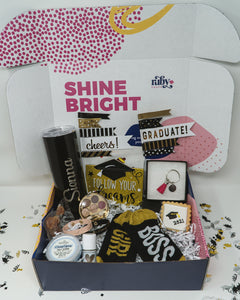 Woohoo Grad Crate!!
Our daughter absolutely loved her Grad Crate. It was a surprise she wasn't expecting on the day of her middle school prom. She very much appreciated the handwritten note inside the card wishing her well at High School. Well done Ruby Crate!!
Perfect
The graduation box was a big hit for my 13 year old granddaughter.
Grad and summer crate
Hi - my girls (13 and 9) loved their Ruby crates they received as a surprise. Items are great for a wide age range - and the fact that I was allowed to make a few requests regarding the crate made it an easy decision that this was the right gift for them! This is our 2nd time ordering and we will order more!
Fantastic surprises in a box
With this pandemic going on many stores closed so I didn't have the chance to look through stores to find something for our daughter who was graduating grade 8 and turning 14… I ordered the Grad Box and a Birthday Box and was very Happy with the outcome.
If your looking for something simple yet surprising for your teen this is definitely a great gift.
Our daughter was very happy with the gifts inside and made it a lot easier on us 😊 I would definitely recommend this for any occasion… any kid loves a little surprise!!
Thank you so much RUBY CRATE.. ❤️
Absolutely Awesome !!
We've had a few crates now and the girls love them. Spring 🌱crates were a hit and the Summer ☀️ and Grad 👩‍🎓 ones even better. Great business, great presentation and love that each box comes with a hand written note for the recipients. Don't Miss Out !!!