Year-Long Ruby Crate (Winter 2021 Start)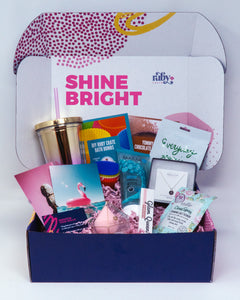 Love the Box
These boxes are the best! Love all the contents! Such a great idea for the Tween/Teen crew!
Terrific Gift
Yes, this was a wonderful 'crate' of interesting goodies for my granddaughters. Lovely quality and interesting variety of items. They live in different towns but are of similar ages so they loved that they got the same gift. They 'shared' their smiles using FaceTime. I'm very pleased that it was such a success. I'm their 'mormor' (grandma in Danish) so this helped me too!!
Exceeded expectations
From the customer service to the contents of the box were much more than I expected. I was a bit worried that the contents would be either too young or too old for a soon to be 14 year old but they were PERFECT! I created a review on my Instagram so my friends and teacher colleagues can hear about Ruby Crate.
Olivia loved everything in the Ruby Crate. Great job
Amazing Crate!
Bought this month to give my daughter for Christmas, I opened it to see what she got and boy is it ever great. She is going to love it!!!!