Year-Long Ruby Crate (Spring 2022 Start)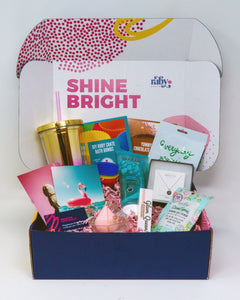 Great Box
My 11 year old was THRILLED with her box! And actually, my 14 year old and I would have loved all the products as well, but little sister wanted this for herself!
Best crate ever!
The girls loved everything in the crates. The poppet pencil case was a hit in the Tween box. In the Teen box, the beaded bracelet with attached card carrier was popular.
Cool Stuff!
My daughter loved her Spring Ruby Crate! She got some really cool stuff!
So much fun!
We ordered the Ruby Crate subscription for my daughters birthday and she has LOVED unboxing all the treasurers. We also order the birthday one for a friend and she was delighted to unbox all the goodies. I'm so glad there is a fun subscription box for my tween!
First time customer
I ordered this crate for my granddaughter for Xmas . Delivery was on time . I peaked into the box and I think she is going to love it . Would highly recommend Ruby's crate . Looking forward to the next 3 boxes .