Year-Long Ruby Crate (March Start)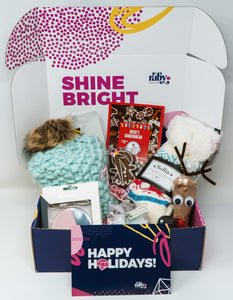 A wonderful Gift!
Our granddaughter's Spring Ruby Crate arrived in time for her birthday. Perfect timing! Thank you for arranging that. She was happy to receive a parcel addressed to her. We were lucky to virtually watch her open her Ruby Crate and discover each of the items enclosed. It was as much fun for us as it was for her. She took her time to look at each item and show them to us. She loved everything! The last item she unboxed was the personalized necklace pendant which she put on and went out to show her friends and tell them about her special Ruby Crate. Looking forward to seeing what surprises are in her Summer Crate.
Fantastic for my 11yr old daughter
I purchased Ruby Crate after a recommendation from a friend and couldn't be happier with it! My daughter was SO excited to receive a package addressed to her - and that was just the start of the fun stuff. The crate was filled with amazing things and my daughter loved going through all of it. From body scrubs to chocolate recipes and personalized jewelry; everything was designed to make her feel special. I'm so glad we signed up for the year long crate program and can't wait for the next one!!!
Thank you
My niece loves her Ruby Crate!
Best Box Ever!!
This is such a great box for tweens and teens! Heidi and Sienna went above and beyond to ensure everything in the box was suitable. Lots of excitement in our house, when the box arrived!