Single Ruby Crate (Winter 2021)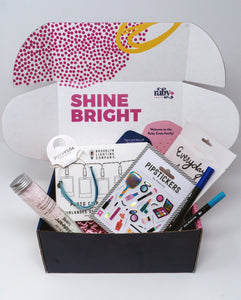 Great Box
My two girls absolutely loved their winter boxes.
Great items! Will definitely purchase again.
Thank you
Best Surprise gift!
What a wonderful way to surprise someone with something so personal. The crate has a variety, of age-appropriate items that are practical and unique.
Christmas gifts for our daughters
Hello. We are giving it for Christmas so we are excited to give to the girls the morning of. Thanks again for this special box.
Great box
This was our first subscription box for my 8 yr old daughter she loved everything in it.The box came with a lot of items from a bath towel round, sheet mask, candy and more . The owner of this box is very kind and it made it a very personal experience for my daughter with a had written note. we did have a few questions when ordering and the response back was very quick. I have already recommend this box and will continue to do so.
We can't wait to get our next box
Summer Crate Review
This was my first time ordering a Ruby Crate. I ordered one for my 13 year old daughter & my 11 year old niece(bday gift). Both girls absolutely loved their crates. When I asked my daughter if she would like a year subscription, she said she would love to. Thank you for all of your time and effort you put into putting these crates together! Stay safe!!