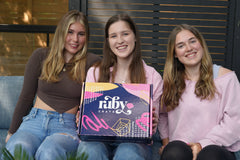 COLLAB BOX WITH TAYLIVI A HUGE SUCCESS!
Shop now
Ruby day is September 17th!
September 17th is what we like to call Ruby Day, as it was the date of birth of our inspiration Ruby, who was Heidi's grandmother and Sienna's great-grandmother, and also the day we launched in 2020. Watch this special video celebrating three years of Ruby Crate!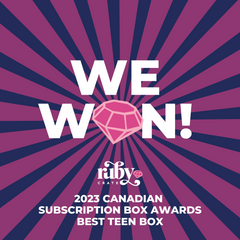 Ruby Crate on CHCH morning live and BNN BLOOMBERG!
Sienna and Heidi in-studio guests on on CHCH Morning Live (May 1, 2023) and BNN Bloomberg (May 12, 2023) talking about the Ruby Crate story. Give them a watch!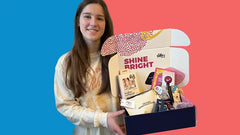 Sienna featured on cbc kids!
Sienna was recently interviewed on CBC Kids, where they meet with cool kids doing cool things. We're so proud of Sienna being recognized for her contributions to the success of Ruby Crate! Give it a read now!
Read Now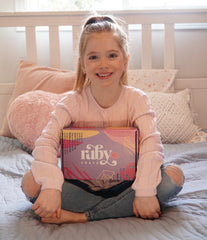 Introducing MINI RUBY CRATE!
Check out the newest Ruby Crate designed especially for our littlest girls! Our new Mini Ruby Crate is perfect for girls aged 4 - 7 years old and will be packed full of beauty and self care products and accessories that the girls will love. Order yours today!
ORDER NOW
Ruby Crate on CTV!
Recently Ruby Crate was featured on CTV Morning Live Atlantic (January 25, 2023), the Marilyn Denis 10 Days of Giveaways Show (December 6, 2022) and CTV Morning Live Ottawa (November 29, 2022). Watch now!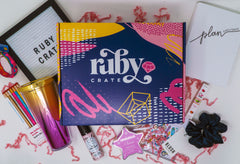 ABOUT RUBY CRATE
Ruby Crate is an award-winning subscription box designed with tweens and teenage girls in mind.  Sure to delight, it is filled with gems – treasures of beauty, style and self-expression to be enjoyed each season. It's the gift that they look forward to throughout the year, delivered right to their door.
Key Features:
• Enjoy and explore 5-7 unique products in every Ruby Crate.
•  Discover and delight in new beauty and skin care products, cool accessories, tech gadgets and more.
• Custom-curated, Ruby Crates  arrive four times a year, coinciding with the seasons (March, June, September, and December) and are ready to be enjoyed and shared.
Buy Now

1. Pick your Crate
Choose between our Year-Long Ruby Crate subscription (four crates, one for each season), our one-time celebratory Birthday Crate, a single Ruby Crate, a mini crate or Campus Crate.

2. We Curate
All Ruby Crates are personally curated with fun, trendy and memorable products for that special girl to enjoy and share.

3. Enjoy and Share
The personalized Ruby Crate arrives at her door to enjoy! She can enjoy new products and share her memories with us @rubycrate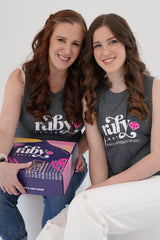 OUR STORY
The name Ruby is very personal - as it was the name of my grandmother who was generous, kind and a friend to everyone she met. My daughter, Sienna Ruby, cherishes her middle name and is proud to title our Crate with her beautiful name.
By definition, a ruby is a precious gem, much like our young girls, who are growing up to be strong and confident women. They are learning more about themselves, their passions, and who they want to become.  
With many subscription boxes marketed towards women, none tailor specifically to tween and teen girls. Our aha moment was when we noticed this gap in the market! Ruby Crate was born to cater to the younger generation's needs and wants - providing an excellent opportunity to create a new box with fun treasures for our girls that are theirs, and theirs alone. 
We hope you enjoy being part of the Ruby Crate family.
Heidi Avery, Founder
Sienna Avery, Chief Crate-ive Officer
Buy Now
CHECK OUT THESE RUBY CRATE UNBOXINGS!
A Year Of Boxes unboxed our new Fall 2023 Crates!
ruby crate on TV!
Watch some recent TV segments with Heidi and Sienna (YourTV Halton, March 2022, CHCH Morning Live, May 2021 and YourTV Halton, March 2021.)
A Year Of BOXES LOVES RUBY CRATE!

CAMPUS CRATE spring 2023 box review
"It's hard to pick my favourite item in Ruby Crate's latest Campus Crate — honestly I love everything!! They're exactly the kind of things I think a lot of young women would use every day and the value is amazing."

SUMMER 2023 BOX REVIEW
"Ruby Crate's a lifestyle box so you get a variety of items from self-care to accessories to stationery and decor. These next few goodies are perfect for days at the beach or the pool (or camp!)."

TEEN FALL 2022 box review
"It's hard to find a gift that's one size fits all (especially for tweens and teens!) but I love how Ruby Crate includes a variety of items many girls are sure to love — or share! ... A Ruby Crate subscription is a gift that keeps giving throughout the year and a single-box a budget-friendly, commitment-free way to see if it's a great fit for your girl."
more love for ruby crate!
What Ruby Crate Fans Are Saying